Summer Learning Opportunities
Dear students
Well done on the completion of the most unusual school year any of us have ever known. We have all adapted quickly to home learning; accessing tasks online, downloading and uploading activities, completing video lessons produced by your teachers, and communicating via email to name just a few! You have done so amazingly well that Miss Neal has posted 330 certificates and 60 Pledge badges recognising student achievements.
Learning and adapting to this new way of working, while also dealing with the events in the world can be physically and mentally exhausting. We all deserve a rest over the summer, so we will not be setting any weekly work packs. Staff are also taking a well deserved break. This means that they will not be checking their emails over the summer holidays. If you have an urgent question, please email Pembroke@prioryacademies.co.uk.
However, we also know that some students would like tasks to complete and challenges to try, so on this page you will find a number of suggested learning opportunities. These are not compulsory, but we would like to celebrate any you choose to attempt, so please do share completed tasks with us in September.
Suggested Summer Learning Opportunities
Check all work from the 14 work packs for your year group has been completed. These will remain on the Pembroke website throughout the summer. Sharepoint is being updated over the summer, so if the link to Sharepoint no longer works, please go directly to the subject page and you should be able to locate the correct file.

For all year 9 GCSE art/photography optees – please ensure you have completed the following tasks to be included in your GCSE coursework in Year 10 Please bring with you on 3rd Sept.

Photography – investigate the 7 rules of composition and take YOUR OWN photograph to illustrate each one. Print at A6 size or 6x4 in town.

Textiles – weaving based on a landscape image

Art – Take 12-15 photographs ( not images from the internet, they must be your own photographs) inspired by the theme 'beneath the surface' – print in town or at home A6 size/6x4.

READ, READ, READ! We are passionate about reading at Pembroke, and all students know how much we value reading for pleasure. Mrs Coggan has created an extensive reading list, including links to the suggested books, sample chapters, audio books and readings by the authors. If you read any of these books, please let Mrs Coggan know in September, and we may even be able to sign off a pledge! Please click the image below to access the reading list.
If you would like to spend some time developing your mathematical ability, please click the image below and follow the instructions to access a wide range of lessons, revision activities and games.

School Games Leadership Booklet. This will be a project that will run throughout the summer break. You don't all have to do it, but there are prizes for having a go, and it provides excellent leadership opportunities for students. Full details can be found by clicking on the image below.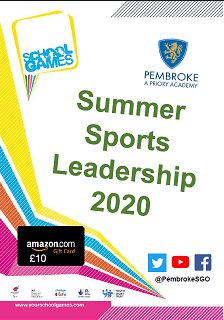 Take a tour from the comfort and safety of your home. Across the world, museums, galleries and historic buildings have created virtual tours to allow visitors to access them during periods of closure. Click the link below to access links to some of these tours.

Enjoy a live show. Mr Lawson has created a comprehensive list of theatre performances which have been made available whilst theatres and other venues are closed. Many of these are free to view, although some are available through subscription services. At the time of posting, these links were active, but this is subject to change by the host. Please click the image to find further details.
Enter the BBC As you write it competition. The closing date is 31st August 2020. Full details can be found by clicking the image below.

Earn Blue Peter badges by completing the 6 Badges of Summer challenge. Full details can be found on https://www.bbc.co.uk/cbbc/joinin/six-badges-of-summer-wall-chart

Access lessons produced by BBC Bitesize Daily and Oak National Academy which will remain available throughout the summer. They cover all national curriculum subjects, and students are not restricted to their year group if you want to try something different.
Are you looking to gain childcare experience and some pocket money by babysitting during the holidays? Or are you considering a career in early years? If so Norland is delighted to announce the launch of its very first, free online course: An Introduction to Babysitting. Full details can be found by clicking the image below.