Behaviour & Relationship Management
Our Academy operates a fair and transparent system. It is a reward led system to support positive relationships. We expect that all students will meet the expectations and that parents will support the Academy in maintaining a positive approach to behaviour.
We operate under the umbrella of a number of Trust policies/frameworks - Policies Link
Personal Development and Relationships
Everything we do at Priory Pembroke Academy is based around one motto:
Achieving Together
We believe that greater success comes from working as a team, supporting each other through good times and tough times. We are creating an environment that is safe, where everyone feels respected and where students come to school ready to engage in learning.
What we do:
We build strong and effective relationships between staff, students, parents and the wider community.
We fulfil the duty of care to students and staff, enabling them to feel safe, respected and valued in the Academy.
We promote a calm and positive climate for learning that ensures effective learning and teaching takes place, leading to high standards of achievement for all students.
We provide a high level of control and support for students – giving firm boundaries and strong guidance.
We establish a framework for staff to focus on building relationships to solve problems, rather than overuse of sanctions.
We support students to develop responsibility for their own conduct, managing and modifying their own behaviour where necessary.
We ensure the reputation of Pembroke is positive in the local and wider community.
By fulfilling the roles above we:
Improve life chances and Create citizens of the world
Developing positive relationships and fostering personal development of our students is based around 5 pillars of adult practice:
Consistent Calm Manner
At Pembroke Academy we believe every member of staff is responsible for ensuring consistent calm conduct and behaviour of the students based around the three Academy rules:
Be Ready Be Respectful Be Safe
The main priority in this is adults modelling expected behaviour. Therefore we expect to see all staff, governors, trustees and visitors:
Behave in a calm, respectful manner.
Greet others with confidence and a smile.
Show empathy and understanding of others and use humour appropriately.
Catch others, especially students, being positive and give appropriate praise in public.
Be reflective in their own practice.
We would not expect to see anyone behaving with aggression, negativity or shouting; using humiliation or "losing it"; and adults should not create 'power struggles' with students.
Conduct within the classroom
Student and staff conduct within the classroom should always mirror the three Pembroke Rules – Be Ready, Be Respectful, Be Safe.
Staff and students have completed work on what we mean by "Ready, Respectful, Safe". Examples of this are shown below but are not an exhaustive list.
For students

Being ready is…

Being respectful is…

Being safe is…

Being on time to lessons.

Sit in a seating plan.

Having correct equipment.

Sit up and face the teacher.

Complete homework

Listen to others.

Be kind and polite.

Use manners.

Not shout out.

Use appropriate language.

Listen to staff.

Follow instructions.

Move safely.

Ask for help if needed.
For staff

Being ready is…

Being respectful is…

Being safe is…

Preparing lessons.

Planning ahead of schedule.

Being on time.

Being positive.

Listen to students.

Use student names.

Treat everyone with equality.

Use a calm tone of voice.

Be polite.

Maintain a calm environment.

Listen to student worries/concerns/issues.

Giving clear instructions.

Risk assess for hazards.
There are also more subject and teacher specific examples of showing the three rules. To this end we would expect teaching staff to have professional judgement within their classroom and take responsibility for the conduct of the students in their care. It is up to each individual member of staff to show professional judgement in setting these rules. Staff should do this at the beginning of the academic year and refer back to these rules on a regular basis.
Basic academy-wide expectations will be referred to throughout individual conversations with students and parents as well as through other means such as whole school assemblies.
First Attention for Best Behaviour
We praise students in a variety of ways at Pembroke, culminating in our rewards programme that is based around our 5 Academy values:
Passion Courage Curiosity Wisdom Generosity
All adults use the values as much as possible when praising students. Methods of praise include, but are not exclusive to:
Verbal and non-verbal praise from an adult when positive behaviour is displayed.
Value stamp given from staff in student planner.
Subject point given for exceptional work – stamp given on work.
House points given.
Nominations for "Hot Chocolate Friday".
Phone calls home (a very powerful method of praise that should be undertaken by each staff at least once a fortnight). This is known as "deliberate botheredness" (see Paul Dix).
Praise postcards sent home by teaching staff.
End of term celebration assemblies.
Reward trips organised by Heads of Year.
Relentless Routines – Providing Consistency
"The behaviour you allow is the behaviour you expect".
Each member of staff, especially teaching staff, are relentless in applying routines in order to promote consistent positive conduct and attitude from students.
We expect all staff to:
Meet and greet students with confidence and respect.
Use positive language related to our motto, rules and values.
Maintain a calm and respectful manner with students at all times.
To be actively on duty at all times (in other words, be "omnipresent")
As well as the above we expect all middle leaders to:
Meet and greet and be visible in their area of responsibility.
Enter lessons and catch students being positive.
Stand by and support staff at relevant times.
As well as the above we expect all senior leaders to:
Be present at the school gates at the start and end of everyday, meeting and greeting and ensuring safe arrival and departure from the Academy.
Be visible at lesson changeover times and social times.
Carry out regular learning walks within classrooms, supporting staff, modelling expectations and praising positive behaviour.
Routines to support Being Ready
Form tutors have a duty to check uniform and equipment everyday and correct if necessary. Ready stamps should be given everyday to show this has happened and the form tutor is satisfied. Heads of Year should conduct random checks of readiness and ready stamps and sign in students planners to show this has happened and they are satisfied. SLT will conduct ready checks periodically.
Scripting Difficult Conversations (also known as 'microscripts')
There will be times where conduct from students is not meeting our expectations. This will happen in all school settings, adolescents do make mistakes! Staff at Pembroke are prepared for these situations in order to de-escalate and resolve situations timely and with clarity. Staff at Pembroke work assertively but calmly.
To support with this we have 3 classroom rules, each linking to our three school rules:
"One voice" (Be Ready) – this ensures we are all listening attentively, and ready to learn.
"Follow instructions when prompted" (Be Safe) – all students should follow instructions for safety.
"Let others work" (Be respectful) – this allows all students to learn, and all staff to teach.
Prevention is better than cure. This is why having strong positive relationships between students, staff, parents and the wider community is important – it makes the process of rebuilding after mistakes easier.
At Pembroke we believe that praising in public but reprimanding in private is effective in supporting behaviour. Outcomes of incidents or sanctions given may not be shared with the wider community, but all students, staff and parents can rest assured all incidents are dealt with.
Restorative Approaches
At any point where behaviour has not been that which is expected staff must "close the loop" themselves, "picking up the tab" as Paul Dix states. Other staff, such as the Pastoral Mangers or Head of Year for example, may be used to support restoring relationships where necessary. With all of this in mind it is important to know that we work with students, not against them.
The following questions will be used to complete a restorative conversation:
What happened? This will gain all parties unique perspective on the situation.
What were you thinking of at the time? This will help students understand what emotions may lead to poor behaviour, increasing awareness and helping them take responsibility.
Who has been affected by what you have done? This is focusing on harm that has been caused and to see the wider consequences of their behaviour.
What do you think you need to do to make things right? This is highlighting that it is the student who has responsibility for putting things right. This is to focus on short-, medium- and long-term actions.
Why Restorative?
Restorative approaches are based on positive relationships where staff work with students in order to improve conduct, attitude and behaviour. A restorative approach focuses on the harm done and taking responsibility rather than blame or guilt for breaking rules. It utilises a situation of a high level of control and support as shown in the diagram below of the 'Social Discipline Window' rather than a punitive approach.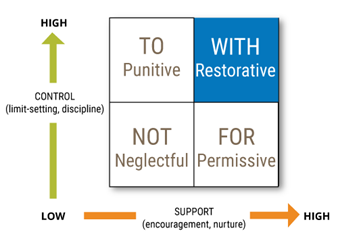 Below are some examples of student conduct that is unacceptable and will need to be challenged by staff. There are also examples of consequences for such conduct. However, this is not a punishment tariff and staff use professional judgement at all times, taking each incident on its own merits.
Example of student conduct

Possible consequence

Low level disruption

Calling out, chewing, not completing work to best ability, incomplete homework, lack of equipment, incorrect uniform, eating out of bounds, punctuality to lessons, etc.

Use of mobile phones is not permitted by the Academy. The phone can be confiscated and collected by the student at the end of the day from Student Reception.

Verbal reprimand.
Communication with home in student planner.
Short detention completed with member of staff (break/lunch).
Phone call home.
Moving seats.
Use of removal room (another classroom, HoD or "buddy" teacher) after de-escalation strategies have been exhausted.

Persistent disruption or incidents of greater severity

Persistency of incidents described above.
Rudeness to staff.
Verbal abuse of another student.

Discussion with form tutor.
Referral to HoY.
Contact with parents with support from the HoY and/or Pastoral Team.
Use of departmental report.
Lunchtime departmental detention.

Serious incidents

Truancy from lessons.
Verbal abuse of staff.
Aggressive behaviour.
Smoking.
Refusal to comply with sanctions.
Theft.
Bullying.

HoY intervention to support staff.
Meeting with parents.
HoY detention.
Student placed on Form Tutor report or HoY report.
Student removed from circulation for an appropriate period of time after consultation with HoY.
SLT intervention after consultation.

Very serious incidents

Persistency of above.
Serious incidents of bullying.
Sexual contact.
Racism.
Fighting.
Possession of banned item (blades, laser pens, pellet guns, etc.)
Physical assault on a student.
Physical assault on a member of staff.
Involvement in drugs or alcohol.

SLT intervention after consultation.
Removal from circulation.
Fixed term exclusion.
Permanent exclusion.
Support from outside agency (police).