Spooktacular Disco Night!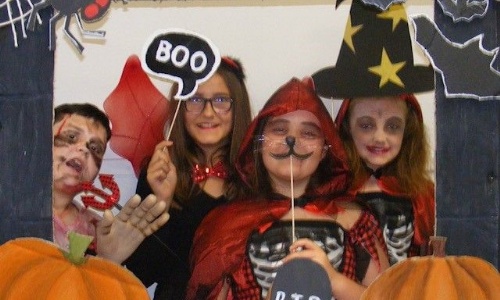 Wow! It was all happening at Pembroke's Halloween Disco on Tuesday 30th October. Our year 7 students together with year 5 & 6 students from our local primary schools filled the hall with dance moves, scary costumes, fun and games. Connor in year 11 opened the night with a Michael Jackson dance performance of Thriller and from then on the dance floor was filled with over 100 grooving ghosts, ghouls, witches and a dinosaur!
Students in year 8, 10 and 11 stayed to help. A photo booth was made and over 50 photo taken of groups of friends in fancy dress from all schools. Year 10 had control of the play list and later with year 11 became the mummies for the 3 minute toilet roll mummy challenge. At the end of the evening prizes were awarded for best costumes and best dancers and everyone had a brilliant time. We can't wait to run this event for the students again next year - come and join us next Halloween if you dare?