Author Opens Reading Room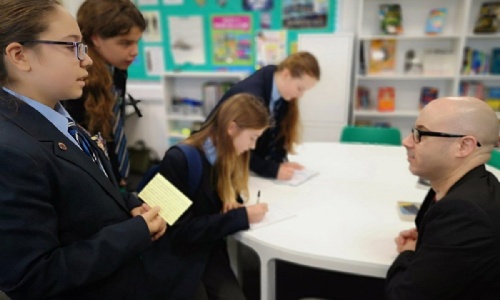 On Wednesday 17th October, visiting Author Keith Gray came to Pembroke to share his wisdom with year 7, 8 & 9 about how he became a writer. He then stayed until mid morning to open our new Reading Room. Keith was a very entertaining speaker who spoke with passion about his love of books and how he became a writer whilst recovering from a nasty climbing accident. His first book was dedicated to 'Baxter' his pet cockatiel who sat on his shoulder the whole time whilst writing his first book 'Creepers'. Keith told many funny stories and had the whole of KS3 and visiting students from LSST totally hooked on his every word. Students were able to buy his books and have them signed during the morning, which many of them did.
Once Keith had cut the ribbon to open our new Reading Room students were invited inside to sit and read and talk to him further. The Pembroke Press interviewed Keith and delved deeper into which of his characters were his favourites and why. It was wonderful to see so many students carrying his books around with pride during the day. We would like to thank the touring Scottish Book Trust for their generosity in bringing Keith Gray to our school and we are now extremely excited about having a Reading Room from where students can borrow books, attend clubs, read for pleasure and enjoy being surrounded by books!