Open Evening is Heaving!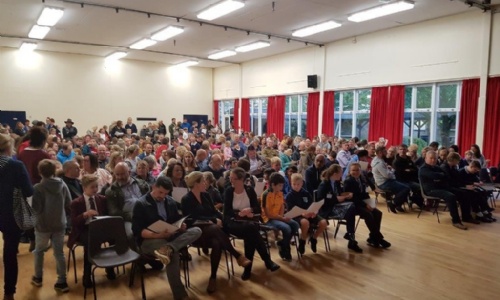 For the second year running, our Open Evening was brimming with excited year 5 and 6 children from a huge range of primary schools. Together with their parents they filled our school hall twice over, whilst listening to what Pembroke had to offer their children during Mr Evans' speech. Two year 8 students also spoke to the audiences gathered in the hall and both were full of passion and pride for Pembroke Academy.
Fortunately the weather held off for us on Thursday 20th September. Both parents and children could wander the school to visit each department, to see for themselves what our school is like. Each classroom was vibrant and radiated a warm welcome as children comfortably settled into the exciting activities on offer.
The feedback was overwhelming! Not only from the smiles on the faces of the KS2 students, but also from their parents and teachers. The vibe about Pembroke out in the wider community is so very positive and it fills our staff and students with pride.
We would like to thank all the students who stayed late to showcase their school. Students were tour guides, linguists, sportsmen, performers and excellent hosts all evening. Each one now has a piece of their Bronze Generosity Pledge signed off in recognition of their excellent efforts.
Our staff weren't forgotten either; on the following day Mr Evans and the year 11 Food students cooked the staff breakfast as a thank you for their hard work too.
What a fantastic Pembroke family we are! Well done everyone involved and thank you to all who took time out to visit us.