Community Fair Success!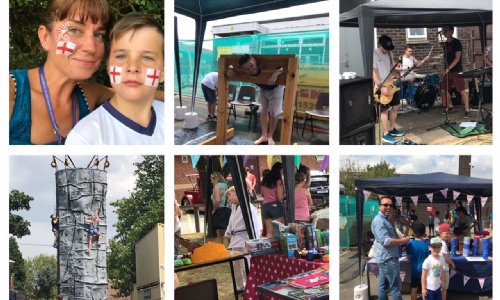 On Saturday 7th July - our school hosted the Summer Community Fair and wow what an event! Although it clashed with the England and Sweden game, the turn out was incredible. We had local companies selling their wares, students running stalls and games for the children to spend their pocket money on. There was a climbing wall, archery, shooting, live music, bouncy castles, Lincoln City running football games, face painting, teachers in the stocks and more. The atmosphere in the school hall during the England game on the big screen was electric. Hay bales formed cosy rows of seating and the local pub ran a bar to keep everyone cool and hydrated during the intensity of watching England victory! The weather was scorching and the site was buzzing with laughter and smiles from all ages. Well done to everyone who took part. A special mention must go to Pembroke's Sophie Edwards in year 10 who has raised over £700 for McMillan by 'braving the shave' in front of a huge crowd during half time. What an inspiration Sophie!
From Mrs Jenny Robinson (Parish Council) - "A massive thank you to all who took part in the Community Fair at the Pembroke Academy today – and an additional thank you to those who attended the planning meetings and who worked hard behind the scenes in between them. It has been great to have been part of such a positive and talented team. A special mention must be made of the Head, Simon Evans, and his staff at the school and Lianne and Lynn from the Friends of Pembroke Academy; their ideas and hard work have really made a significant difference to this year's event.
I know from talking to people whilst at the Fair that there was an overwhelming consensus that today had gone really well and everyone was delighted that so many people had come and were obviously enjoying themselves. This is undoubtedly down to everyone's hard work – though of course we can't claim credit for the sunshine and England's win! "