Science #wisdom!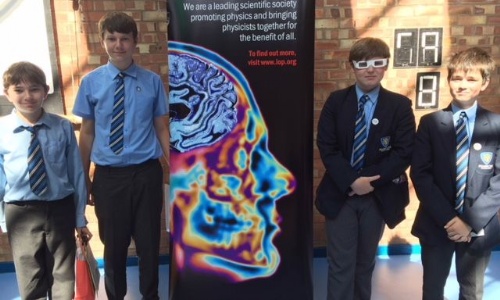 For the past two Friday's, some of our Science Ambassadors have been out and about taking on a range of scientific challenges. Last week, 12 students from year 8 & 9 took on the robot wars challenge at a STEM day at Bishop Grotteste University and were a winning team!
This week a team of 4 scientists from Year 9 headed to Uppingham Community College to take part in the prestigious Institute of Physics "Super Science" competition.
Sam Scott, Jacob Spurr, Robert Towriss and Jack Wood got cracking on a range of experiments and investigations over 3 hours. Each was marked by teaching staff and marks totalled up. Students had an hour to choose their favourite experiment and design presentations on it. This really challenges all the students.
Presentations were made to teaching staff and all groups got to make 3 presentations. This was a high pressure situation - students had a 10 minute donut break and back to it! They were rewarded with their efforts with a WOW lecture about the development of non lethal weapons for police. It was an amazing achievement for our students. To achieve a 10th placing in such a competition again some stiff competitors. It shows how much #courage a Pembroke student has!!