Philosophical Inquiry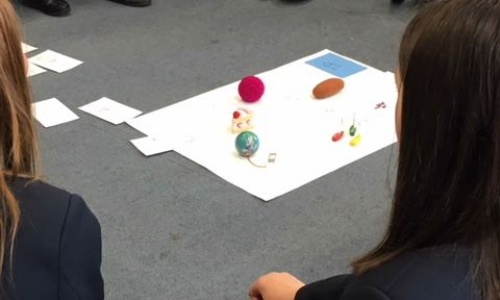 'Thirteen Ways' are delivering a 3-year cultural programme in partnership with Lincoln Culture and Arts Partnership – of which the Priory Academies Trust is a member - in part funded by Arts Council England funded.
The programme begins in May 2018 and it brings to Lincoln leading national and international artists. They want to engage with pupils across the Priory Academies Trust from the outset of the programme.
The Priory Pembroke Academy has already welcomed Graphic Designer, Fraser Muggeridge back in March and this module we welcome a Philosopher in Residence, Ayisha de Lanerolle.
Ayisha is a practical philosopher who develops the art of thinking, dialogue holding & conversation making. Her work is a facilitating process where ideas are the focus, and participants examine familiar concepts to reveal different understandings. Her practice is used across age groups – from 4 upwards, across generations, backgrounds and abilities. She has collaborated with galleries, artists, schools, colleges and groups. Most relevantly she enabled Turner Contemporary to build a culture of inquiry between staff, visitors and artworks through four programmes including Arts Inspiring Change (primary school children), Public Curating, Navigators (cultural/gallery guides) and Youth Navigators (a 5-year programme for teenagers).
Ayisha will be delivering a 'Community of Philosophical Inquiry' to all year 7 students through their PSHRME lessons each week. It is an approach to practical philosophy that is used with children and adults. It involves participants in a dialogue that is carefully, but simply structured to allow them to discuss their ideas in a philosophical way.
Philosophy asks 'big' questions about things like knowledge, justice, truth, love, morality, society, and so on. In the past, children have asked question such as: Do babies think in language? Is there an end to space? Why did Cinderella get married? Is a daydream the same as a dream? Do grown-ups know everything? Should everyone be paid the same?
This week year 7 discussed whether you could answer a question that hasn't been asked?