#Courageous Football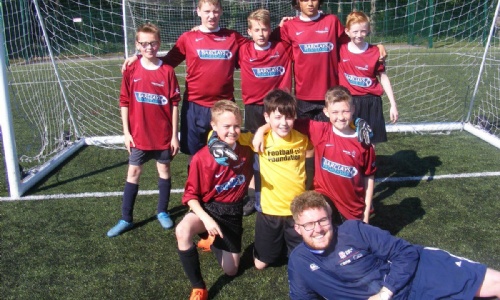 The yr 7 boys football team were in action tonight against a team that had some real quality in depth, who had previously won 14-0 earlier this year. Final score: Priory City of Lincoln Academy 7 - 3 Priory Pembroke Academy
A shaky start saw us go 1-0 within the first couple of minutes, however the boys did settle and equalised through superb individual effort from captain Harry Fisher - a captain leading by example! City now understood the underdogs had come to give them a game, and saw them push on to half time leading 5-1. Pembroke were deflated. Having no subs on the away team bench, the boys tired as each minute went by, but it seemed a #PASSIONate half time team talk (driven by new double act Mr Selby & Mr Cooper) turned our boys into lions hungry for goals mid-way through the second half. Some hearty team spirit saw our boys claw back a 7-1 deficit to draw the second half 2-2!
Score line is not important. The boys took part in their first full sided game together and showed a lot of promise for our future. Every single one of them put a shift in, battling for headers, tackling at every opportunity,making the effort to win second balls, and help each other in difficult situations when it got tough towards the end. MOTM performance goes to Morgan Gooch, who did not stop throughout the entire game, and capped off an inspiring performance with a goal to his name!
Mr Cooper and Mr Selby could not be any prouder of the effort these boys displayed last night. They could quite easily have dropped their heads at 7-1 down and gave up, but this was never the case, and their efforts today genuinely had our 5 values written all over it!