Books, Plays and Trip days!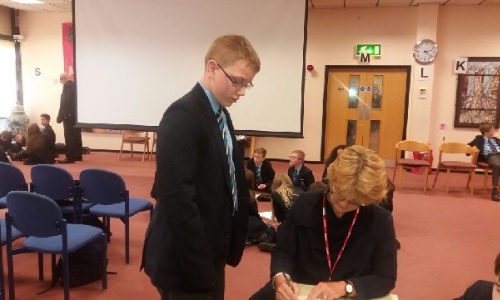 The English Department have had a very busy week. On Wednesday 2nd May, all of year 7 went to meet author Miriam Moss at The Priory LSST for Bookbuzz 2018. Each student had been issued with a book to read before they arrived and thoroughly enjoyed listening to Miriam talk about her book 'Girl on a Plane'. She then delivered a workshop and even spent time signing books for the students.
On Thursday 3rd May, all of year 11 travelled by coach to watch Willy Russell's 'Blood Brothers' at the Regent Theatre in Ipswitch. This is the play they are studying for GCSE English Literature and also for GCSE Drama, so it was a very worthwhile trip. All the students enjoyed the play, and have a deeper understanding on the plot and its characters now they have a visual reference to build upon.
#passionate and #wise about books, plays and trip days!