Thriving Art Department!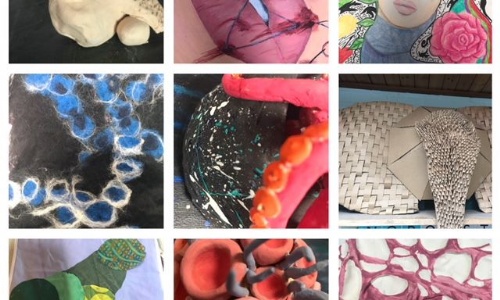 It's been a very busy week here in the Art department. The year 11 Art students had their 10 hour exam on Monday and Tuesday - there were some superb outcomes, which unfortunately due to regulations cannot be shared on the website or our social media pages. They are now revisiting bits of their coursework for the ultimate marks. Year 10 are all busy beginning their final pieces for a project called 'beneath the surface' which is very exciting. They are creating interesting compositions with clay, textiles and paint. Some students are hoping to complete their textiles work for the Paradigm Arts Fashion Show competition again this year in June!
On Tuesday lunchtimes the department runs 'craft club' where students are busy making jewellery trees from recycled plastic bottles, to sell at the Community Fair on 7th July. Thursday lunchtimes and after school every Friday is 'catch up' club and again thi is well attended by students in KS4.
Finally Miss Neal is continuing to support our local primary schools this module with various art projects. Year 5 at Cherry Primary are making cam mechanisms based on their class book 'The Lion, the Witch & the Wardrobe'. Whilst year 3 at Sturton-by-Stow Primary have been making flowers using clay pinch pot and felting techniques. Busy, busy busy! Come and see the art work at the exhibtion at the Community Fair on 7th July - it will be a great event.