New Signs Go Up At Lincoln-village School Turned Academy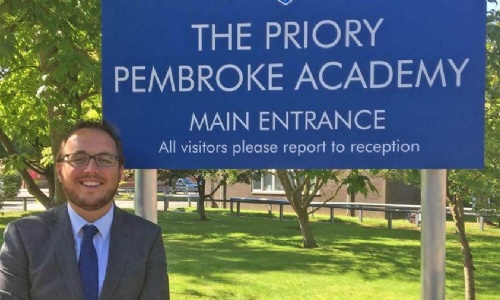 Cherry Willingham Community School has officially reopened as The Priory Pembroke Academy after the school joined the Priory Federation of Academies Trust.
New headteacher Simon Evans shared his excitement at opening the new-look school after signing was put in place on the morning of Friday, September 1.
The school serves the populations of Cherry Willingham, Reepham, Fiskerton, Nettleham, Greetwell and Langworth.
Site improvement work has been ongoing over the summer as the school prepares to become the fifth academy in the Priory Federation.
Mr Evans, previously Deputy Head at The Priory Academy LSST in Lincoln, said: "These are very exciting times. I truly believe that this academy, working closely with the Priory family, will go from strength to strength.
"We will be focussing on academic rigour, using the Priory values, to ensure that we are nurturing deeply cultured, reflective and philosophical thinkers of the future.
"The teaching team now consists of a blend of LSST and Cherry Willingham staff. We will all be working hard to ensure that we empower intellectual curiosity and create active learners. We also believe it is important that our students have the courage, generosity and passion to succeed."
Pembroke's students start their new term on Wednesday, September 6.
The new name commemorates the first Earl of Pembroke, William Marshal, who secured a decisive victory for the English army over the occupying French forces in the Battle of Lincoln exactly 800 years ago.
The Priory Federation today also formally welcomed a sixth academy – Ling Moor Primary in North Hykeham – into its fold, while a seventh – Belvoir High School in Bottesford – is due to follow later in the autumn.