Working with our Primary Schools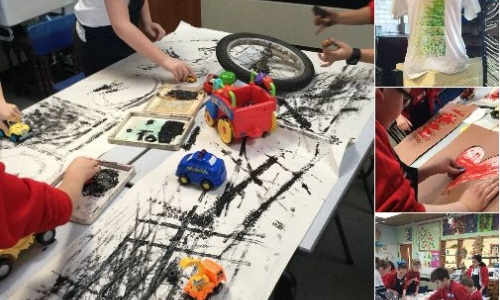 Its been a very busy few weeks working with our local primary schools again. On 7th February we hosted a year 5 'travel' themed experience for 90 year 5 students from Cherry, Reepham and Fiskerton pirmary schools. They enjoyed a range of lessons based on a travel theme. In PE there was a carousel of agility tasks which exploring ways in which we travel in sport. In art the students looked at the tyre painting of Ian Cook and printed their own tshirts with car wheels. In Mathematics the students engaged with measuring distance and speed with a variety of remote control vehicles and in Science they were challenged to explore seed dispersal within nature and make their own seed to see whose dispersed the furthest. The students enjoyed a hot meal for lunch with traffic light jelly and cookies provided by our excellent canteen team. It was a great day and all involved really enjoyed themselves.
Check out our twitter page for more photo's and news on how we support our local primary school learners!