Christmas Arts Celebration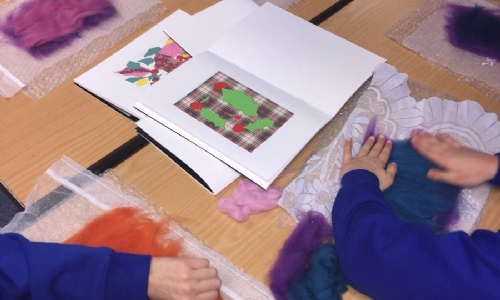 Get yourself down to Pembroke for 6.30pm on Thursday 14th December.
This week we want to share how much we are working alongside our local primary schools. In fact we are running out of hours in the week. We follow Cherry, Reepham and Fiskerton on Twitter and are often tagged in posts allowing us to share the work of our students. Pembroke is highly active within our primaries and is bringing all students and staff together this festive season on Thursday 14th December by hosting a Christmas Arts Celebration Evening. Performances from all year groups along with their art work will be show cased on this evening. This evening brings together work schools have done independently but also work they have done alongside Pembroke staff. All are welcome, so we hope you can join us.
Cherry Willingham Primary school students in year 5 and 6 have been creating kinectic textile figures which they are animating on their ipads to produce a film to show the audience in the interval.
Fiskerton Primary are showcasing the stunning vocals of their Young Voices singing group who will perform in Sheffield at a big competition in January, in which we wish them luck and are honoured to hear their songs before the judges. Their year 3&4 class will be showing off their felt making skills in the art exhibition.
Bardney Primary School have a large singing group 'I-SING-POP' who will be performing. Reepham Primary, whose year 3 and 4 classes are also singing during the evening will no doubt amaze the audience with their vocal styling. Reepham will be showing off art work from year 1 and also year 3 which have been inspired by Van Gogh and also the book 'Only you' by Linda Kranz. The art exhibition will also display observational skull chalk drawings the year 6 students produced on our Pembroke Pirates day back in November.
With the support of Pembroke teachers, our local primary students are exploring opportunities to develop art skills, literacy and will soon be challenged in Mathematics. We are thoroughly enjoying working together and exciting all our learners to become curious resilient students.