New Name Decided For Academy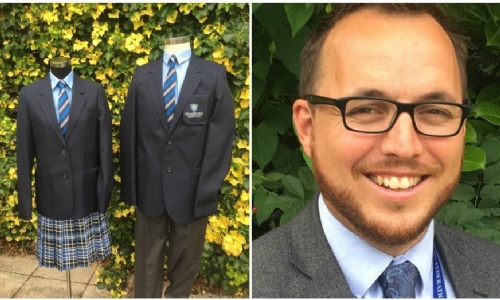 The new Priory Pembroke Academy school uniform and headteacher Simon Evans
Cherry Willingham Community School will close at midnight on August 31 and open the following day as The Priory Pembroke Academy.
The news comes after the school joined the Priory Federation of Academies Trust.
The new name commemorates the 1st Earl of Pembroke, William Marshal, who secured a decisive victory for the English army over the occupying French forces in the Battle of Lincoln in 1217.
New Headteacher Simon Evans, who takes up his role on September 1, said: "We reviewed the school's name and uniform in consultation with students, staff and governors.
"There was overwhelming agreement – in fact, a desire – to begin our new era together under a brand new flag.
"We believe it is fitting that, in the 800th anniversary year of Pembroke's triumph in Lincoln, we pay lasting tribute to the heroism of one of England's greatest medieval knights. His actions changed the course of local and national history.
"The name Pembroke provides many opportunities to reinforce clear rituals and routines within school. We will also use the name in the curriculum and beyond – for example, history studies, geography work and enrichment visits.
"It is the right time to make this change. The academy is undergoing significant development and a new name will help us to forge a new identity within the community."
The school, which opened in 1965 to serve the populations of Cherry Willingham, Reepham, Fiskerton, Nettleham, Greetwell and Langworth, will also be adopting a new uniform for its students.
"We talked to students, staff and governors and, again, there was a desire to make a fresh start while ensuring it remained smart, professional and cost-effective," said Mr Evans.
"There will be new colours for the clothing and the new academy crest will feature the lion emblem of the 1st Earl of Pembroke."