Handball Tournament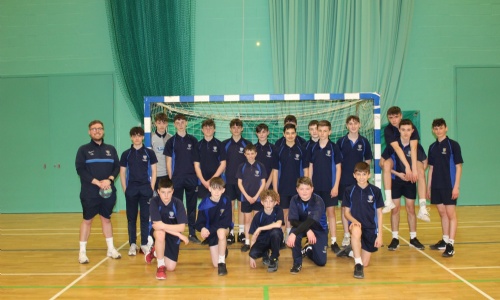 On Thursday 3rd March, the u13 and u15 boys teams competed in the East Midlands round of the National Handball competition in Nottingham. A great opportunity to challenge our Handball players, who were all amazed by the chance to play at David Ross Sports Village, University of Nottingham, a class facility.
U13 team
Archie Walker
AJ Atkins
Oliver Neal
Jayden Gray ( C )
Asher Phillipson (Player of the day)
Charlie Gibbins
Samuel Hildred
Reef Medd
Henry Roberts
No wins for the u13 team, but all enjoyed the chance to play some competitive Handball against teams they'd never heard of. Great experience for future years and something to build on.
U15 team
Jaeden Johnson
Josh Smith ( C )
Ryan Parrish (Player of the day)
Seb Di Maro
Will Parfitt
Nathan Balding
Matthew Arnold
Tino Challis
Matthew Kent
Daniel Outen
Reuben Hollamby
Lost the first match against Nottingham Free School, but drew 1-1 with Heritage High School, wont 4-2 against Queen Elizabeth's High School, and drew 2-2 in the 2nd group place decider against Manor School. They narrowly missed out on qualification to the semi-finals and unfortunately miss out on the next round of the competition, finishing 3rd overall in their group of 5 teams. Some physical and intense games today. Pembroke fought extremely well in the u15 games and its given them a boost playing some really good quality Handball today. They can be proud of their efforts.