Meet Our Future Chefs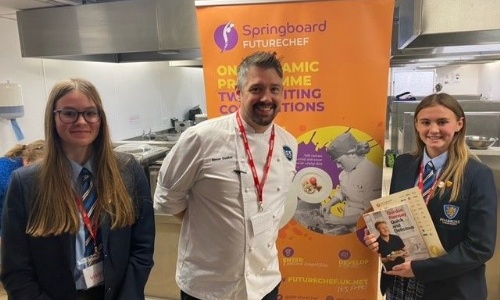 Springboard's FutureChef is a schools-based programme that supports the development of key life skills whilst inspiring young people to pursue an exciting career within the world of hospitality. They support students to build industry based culinary skills and knowledge, as well as connecting us with industry professionals. The FutureChef competition is the biggest school culinary competition in the UK.
When Isabella and I went to the competition we were very nervous. Upon arrival every competitor was given time to organise their ingredients and equipment. We were introduced to the judges and the H&S measures. Then the heat was well and truly turned up!
We had one hour to execute our dishes, and although I had cooked mine 12 times at home in preparation, it was still very nerve wracking when the judges were milling around watching us and asking us questions about our food. It really was just like MasterChef on the TV.
Isabella Shattock won the competition and now progresses to the next round. Her cooking skills, working method, organisation and quality of outcome was exceptional. I also did amazingly well and finished in second place. One of the judges asked me for a copy of my recipe as he said it was truly delicious. I am very proud of my achievement and that of my friend Isabella. We achieved together for our school. I would love to take part again!