Primary Work is Back!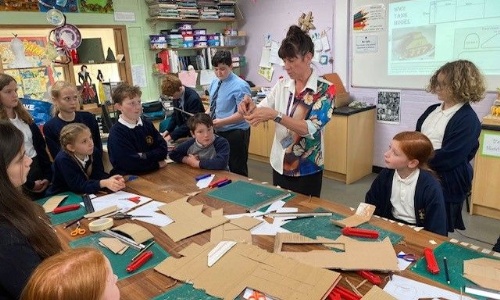 Visiting and working in our local Primary Schools with year 6 students is back in full swing.
Miss Neal has been out to Cherry Primary creating lizard art based on their class book 'Holes'. She was at Bardney doing drawing workshops over the last two weeks; and yesterday we had the pleasure of Reepham students who came to Pembroke to start a card modelling workshop linking to their History topic.
Everyone is loving being able to work together again. Her diary is filling up fast with dates confirmed at Carlton Academy with year 6, Nettleham year 5 & 6 are keen to see her too, and she is due back at Bardney to do clay work with year 5.
It's fantastic to be able to out in person again - youtube tutorials aren't quite the same even if they are Miss Neal's videos!