Lockdown Won't Stop Primary Work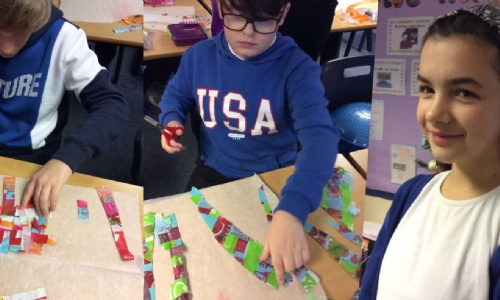 Lockdown won't stop us working with our Primary school students.
Module One still saw Pembroke going out to deliver exciting lessons to our local Primary schools. Working with the Year 5 and 6 curriculum at Cherry Willingham Academy allowed me to use cross-curricular links with their class book 'Holes' by Louis Sachar. Having worked with this Primary school on a regular basis and explored this book before with them through a Saturday morning clay workshop back in 2018, I was familiar with the story, characters and key themes. This time, it was those key themes and a lack of textiles within their curriculum which drove the lessons. Year 6 students learned to sew and together they embroidered key images from the story to collaborate and create a large wall hanging which would not only look great on display, but would also serve as a teaching resource in years to come when the classes read the book.
Module 2 and lockdown prohibited the live visits for everyone's safety so I had to think creatively despite having planned two exciting art and technology projects for Reepham and Fiskerton Primary Schools; starting a YouTube channel was the answer!
Video lessons and demonstrations were filmed and materials were delivered to the schools. The staff and children were so very grateful and were responding really well to the remote style: the videos could easily be rewound, paused and replayed numerous times meaning a 7 minute video can last an afternoon when interspersed with the practical tasks. Fiskerton Primary are enjoying a series of video lessons on the war theme 'Make, Mend and Do'. Their art and technology activities have been about reusing and making do with what they have. They've made Japanese journals from recycled paper, working clocks from old CDs and nik naks found at home, geometric planters from cereal boxes, vases from woven plastic bags and a pop bottle and even stitched slippers which were upcycled from old clothes. On the other hand, Reepham were using a range of taught hand embroidery techniques from video lessons to collaborate and create a class clock featuring the 12 Gods of Olympus which they had researched and drawn designs for. Work is transferred between teachers and schools safely. Noting the success of this KS2 curriculum support, I now have a series of video lessons to devise and film for Year 5 students at Cherry, Ellison Boulters and Bardney on WW2, plastic pollution and colour! The challenges are very different as these have to be art and technology tasks that can be confidently delivered by their teacher without a specialist art teacher being physically present.
We also have a team of staff working on a series of remote resources for National Number day on 5th February 2021. This will be an exciting event as it is fully cross-curricular whilst also promoting what a great secondary school Pembroke is at the same time. It's all very exciting and great fun!
Our numbers for Year 7 in September 2021 are very healthy due to our successful remote transition work during the first lockdown in the summer. Keeping the virtual doors of communication open has been the key to our constant success in supporting our primary schools. I am really enjoying this new way of working but I am missing the social aspect of the KS2 learners. Never mind - hopefully I will be back out to see them in the summer!