CIN Spinathon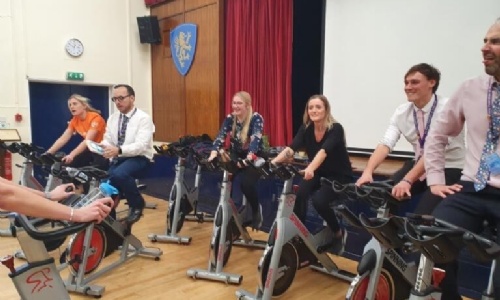 After a meaningful assembly by Miss Neal today about Children in Need and the 650 mile bike ride undertaken by celebrity Jamie Theakston for charity - our house spinathon was on! Jamie cycled through 8 cities in 8 days, starting in Edinburgh and ending in London. Along the way he stopped off at many small childrens charities to offer support and meet the children & families he was helping. He raised an astounding half a million pounds which is fantastic.
House teams of 28 students undertook an intense spin session in the to try and cycle the same amount of miles. After 3 hours in the saddle and a fantastic team effort from everyone including staff pedalling too at break and lunch, the totals are as follows
3rd Place – De Le Haye – 138.76 miles
2nd Place – De Clare – 152.44 miles (best singers)
1st Place – De Valance – 157.8 miles
Students (Miss Neal's miles counted for each house) total miles was 449 and if we then Matthew Kent's miles (who cycled for the duration of each session too) the students cycled 489 miles in total.
At break the staff added 24.47 miles and at lunch they added another 33.16 miles, so with their total added on we cycled 546.63 miles.
So not quite 650 miles as Jamie Theakston did but we got from Edinburgh to Newcastle, through to Leeds, past Manchester, into Birmingham, through Cardiff and half way to Bristol.
Total money made from all activities going on today is £274.51m - wow!