Bombers, Poppies, Remembrance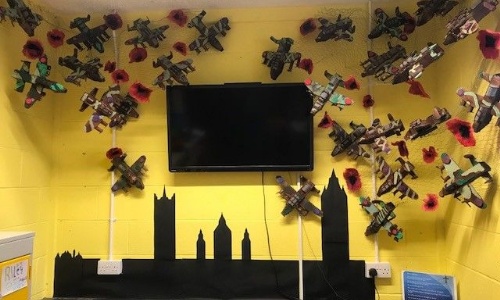 This module has been very busy working with our local year 6 students. One of their very important topics this year is WW2, so Miss Neal has been busy constructing Lancaster Bomber models with the Reepham year 6 class. Inspired by the upcoming sculpture 'On Freedoms Wings' which will feature on the A46 next year, she visited the man behind this amazing project. Ken Sadler thus inspired her to share her findings with year 6 students at Welton St Mary's, Reepham and also Ellison Boulters (after Christmas).
Challenging students measuring, cutting and assembling abilities, a whole fleet of Lancaster Bombers were created over several afternoons in the Pembroke art room. Scaled down to 100th of the actual size, the models look brilliant. Felt poppies were also made by hand from merino wool tops and displayed amongst the fleet. As you can see from this powerful display, the students had a huge amount of fun as well as learning about basic construction techniques; using new materials and techniques and learning all about why we are 'bomber county'.
A fantastic example of Achieving Together'.