London Calling!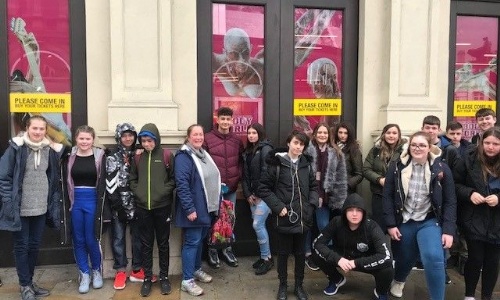 On Thursday 24th January, year 9 & 10 students from the GCSE Art and Triple Science classes went to London to experience exciting subject related exhibitions and some cultural capital. Leaving Newark Northgate station on the 9.20am train, and arriving at Kings Cross at 10.45am, they were ready for a busy day.
The first stop was BodyWorlds in Piccadilly Circus. This was a mind blowing exhibition of Dr Gunther von Hagens' real human bodies which sparked curiosity and awe with all our students. It was a phenomenal journey through the human body to discover the magic and mysteries that lie underneath the skin. It was a unique, exciting and interactive journey through the human body, which left all of us astounded at the beauty beneath the surface of our skin.
After lunch at a nearby MacDonalds; the next stop was The Natural History Museum. Here the Art students were able to draw and take photographs for their art project 'beneath the surface' with many focussing on bones and sea creatures for their coursework projects. The science students were comparing the joints within particular creatures especially from the evidence of adaptation on display.
On the way back to the station, the party paused in Convent Garden and enjoyed the street performers at Leicester Square before returning to Kings Cross for the journey home. All students, Miss Neal and Mrs Pickersgill had a thoroughly awesome day. Experiences like this are to be savoured as school day memories that wil last forever. It was a pure day of #curiosity for the awe and wonder such subject areas display as well as #passion for learning, seeing and doing new things!