Badminton Victory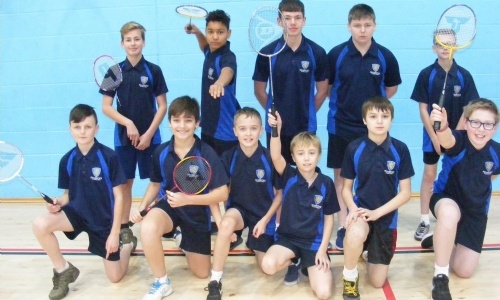 This week the Yr 7, Yr 8 and Yr 10 boys badminton teams played in their first competitive match of the year away at The Gainsborough Academy in the Lincoln and Gainsborough District Winter Badminton League.
The boys have been working on skills and techniques in badminton club on a Monday after school and their efforts were rewarded tonight – see results below.
Team results:
Yr 7 – TGA 0 vs 6 Pembroke
Yr 8 – TGA 3 vs 3 Pembroke
Yr 10 – TGA 0 vs 6 Pembroke
Great results for Pembroke, we have points on the league standings table!
Lots of team spirit, respect to the opposition, shaking hands before and after games – good sportsmanship and etiquette to the hosts.
A couple of big wins - Alfonso winning 21-1, Jack Searston21-4 , Ben Bower 21-8 and Jacob Spurr 21-8 in their singles matches, but there were a couple of closely fought matches which saw Nathan Truelove (who lacked confidence going into this match) win 21-19 (having been losing 11-3 earlier on in the game). A lot of courage and passion shown there by Nathan to come through and get the win for his team. Ashton and Max were also involved in an intensely fought final game which saw Max Millar smash home the winning point to see Pembroke win their 6th match of the night. The 8's found it difficult, playing some clear talent from their seed 1 player. So it was down to our Mikey and Taylor to turn a 1 score deficit into a 3-3 draw in the final game.
A lot of positivity came from that night. Again, big praise to them as they move forward and play the next league game against Branston next Wednesday.
Yr 7 – Alfonso Gomezleal, Jack Searston, Nathan Truelove, Jayden Wilton
Yr 8 - Mikey Stepniewski, Taylor Beckham, Mark Bennett, Morgan Gooch
Yr 10 – Ashton Toplis, Ben Bower, Jacob Spurr, Max Millar