Mansions of the Future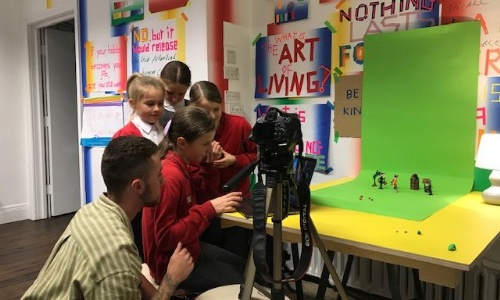 This term we have teamed up with 'Mansions of the Future' and the year 5 students at Cherry WIllingham Primary School, to explore storytelling and animation based on Lincoln's local history.
Year 5 and 6 students at Cherry Primary have been studying post 1066 Lincoln history since September, and this diverse arts centre in Lincoln has allowed us to share some exciting opportunities.
Each Friday afternoon, Miss Neal takes a group of year 5 students to the Mansions of the Future building to work with Rachel and Ollie on a two week workshop project. In week one they explore the art of storytelling through some really fun drama games. Rachel has a theatrical background and has also worked for the city of culture programme in Hull prior to her new roll of MoTF. Ollie is one of the artists who use the space to create and work with the public. Ollie is a film maker and works with the children to create their own stop motion animated film using plastercine models, camera's and software which he allows the children to operate and direct independently.
The group who have been the past two weeks have also had the pleasure of experiencing exhibition 'Into the Wild', which is an exhibition on tour before moving to the Natural History Museum Archive in London. It showcases a range of wild plants found growing in WW2 bomb sites in London which we also find growing in abundance within different parts of Lincolnshire. This really opened the eyes of the year 5 students are they began to understand that an art exhibition doesn't have to be a wall of paintings.
All students have had a fantastic time with the staff at MoTF.The rest of their year group can't wait for their turn in the upcoming weeks!