Hilton Restaurant Chefs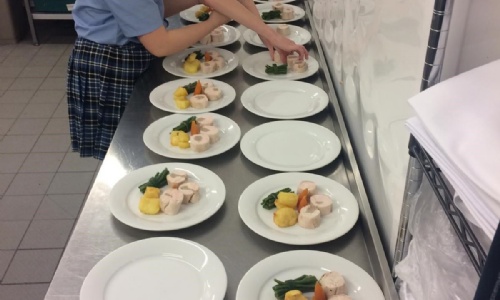 On Tuesday 6th November our GCSE Food students ran the kitchen at The Double Tree restaurant in the Hilton, Lincoln. They were involved in the food preparation, cooking, serving and front of house which was required all night to cater for paying guests. A luxurious four course menu with a 'forest' theme to commemorate our second year as a Charter of the Forest School, was served to a very busy restaurant.
We have been inundated with calls of thanks and happiness from parents already this week and all staff in attendance were truly impressed by the quality of the food, enthusiasm and professionalism of the students and the support from Hilton Hotel staff. This was an amazing evening event. Full happy tummies left the hotel after the exquisite 4 course dinner.
Some comments included
"I am astounded by the quality of the cooking"
"This will be the making of my son"
"This is the best meal I have eaten at the Hilton Hotel"
For those of us who didn't make it this time, this event will return, as now we have a platform to build on! Well done to all the students involved!