Football Season Starts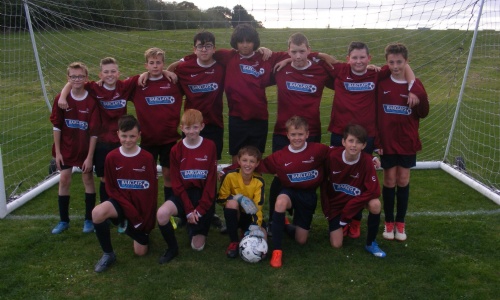 The boys travelled to Gainsborough to play in their first ever league match in the Lincoln and Gainsborough district football league. We had a mix of year 8s and welcomed some new yr 7s into the team – all were well up for it and looked forward to the challenge!
Pembroke made a promising fast start. Leading by example, captain Harry Fisher became Leonel Messi for a moment and danced his way around 3 players followed by a composed finish. Pembroke took the early lead! The boys held their lead until midway through the first half where a couple of mistakes and a bit of naivety started to creep in which gave TGA a 2-1 lead going into half time. TGA took a 3-1 lead early into the second half and the boys were deflated, however there was an air of togetherness sparked by some individual excellence from one of our new Yr 7s. Josh Smith displayed some real #COURAGE in his first game for the Yr 8s and began to grasp the nettle with both hands, firstly carrying the ball from deep in his own half and playing a sublime through ball into the path of Taylor Beckham, who's effort was miraculously kept out by the reflexes of the home team's goalkeeper, tipping the ball onto the post. Shortly after, Josh once again demonstrated his range of passing and sent Harry through – it had to be a goal this time… but unfortunately the posts just kept getting bigger for our boys – post no. 2! The hosts scored their 4th and final goal shortly after, a bitter taste for our boys, but Pembroke showed #PASSION and continued to pile on the pressure late on, throwing in the kitchen sink with a headed effort from Morgan Gooch narrowly wide of the post and a free-kick from Harry Fisher struck marginally over the cross-bar.
A lot to work on, and some defensive frailties to be ironed out, but a lot of positives, and some massive improvements on their games last year. We play again next Monday. Let's congratulate their efforts and get behind them for the next game!