Christmas Arts Celebration Success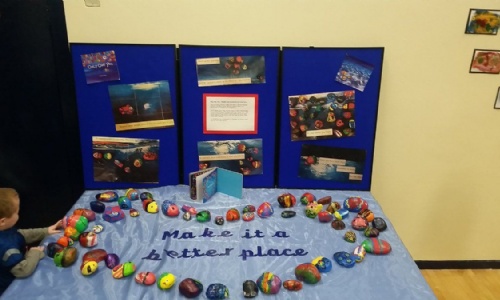 On Thursday 14th December we hosted a Christmas Arts Celebration Evening. Our local primary students were invited to perform and showcase their artwork alongside Pembroke students. The hall was packed to the rafters with 300 seats full of children, parents, teachers and gradnparents all beaming with pride as they watched the students sing in front of a such a huge audience. Their art work was wonderful too - Cherry Willingham Primary school students in year 5 and 6 created kinectic textile figures which they animated on their ipads to produce some animated films which we showed during the interval. Fiskerton Primary were showcasing the stunning vocals of their Young Voices singing group who will perform in Sheffield at a big competition in January, in which we wish them luck and are honoured to hear their songs before the judges. Their year 3&4 class showed off their felt making skills in the art exhibition. Bardney Primary School had a large singing group 'I-SING-POP' who performed two rather funky numbers with some superb dance moves. Reepham Primary, whose year 3 and 4 classes were also singing a song from the musical 'Matilda' and there wasn't a dry eye in the house. Reepham exhibtied art work from year 1 and also year 3 which have been inspired by Van Gogh and also the book 'Only you' by Linda Kranz.
Pembroke students also performed. The Samba band were very loud but very cool; Kyla, Sophie and Charlotte in year 10 sang beautifully; the year 7&8 singing group sounded great, year 7 dance club were groovy, and Beth and Lara on their Ukele's were also a credit to our school. Well done to all performers!
It was a wonderful evening and we look forward to hosting it again every year.