Metal Workshop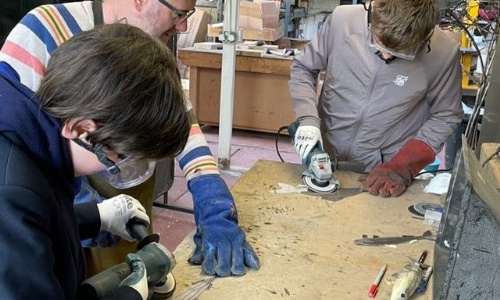 This week we started one of a few trips to see our Sculptor James Sutton in his Sculpture Barn in Harpswell. Miss Neal and Miss Romaine took 3 boys to experience working with metal as an art & design medium. Harley, Tom and Sean created metal fish which can be wall mounted.
They used angle grinders, fly press, panel beaters and also experienced welding. The results were brilliant. They want to go again.
We saw the first part of our sculpture as we delivered the year 7 & 8 metal butterflies from last module. The metal armature which will become the child is made ready for metal butterfly application.
This was also a chance to work with someone whose career has been really diverse in terms of the materials he has created sculpture commissions from, and how he has taught himself new things to become more successful in his work. #careers