Bookbuzz Author Visit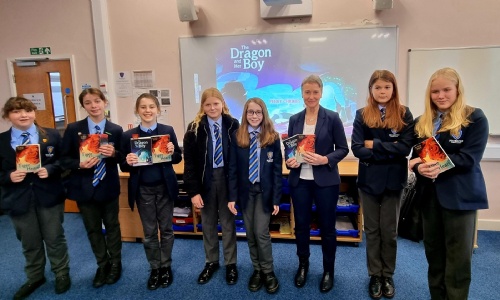 On Monday 6th December, Pembroke welcomed author Penny Chrimes to meet both a small group of students who had chosen her book Tiger Heart as their Bookbuzz choice and later the whole year group. A group of children including myself who had read Tiger Heart did some activities with the author when she first arrived from London. These activities included redrawing the front cover of the book from another character's perspective, writing a film pitch for the book and drawing a comic strip for a scene. We really enjoyed spending some time with Penny in a smaller group.
The next part of the event was an author talk with the whole of Year 7 when Penny talked about her inspiration for Tiger Heart, which was an old news article about an escaped tiger in Victorian England. Another thing she talked about was her life before being an author, when she was a journalist and was not as happy as she is now writing. She did, however, tell us that she was proud of winning a BAFTA award for a documentary series she had worked on. We also did some quizzes about some of the more unusual words Penny uses in her writing and what they meant and then we all got our books signed and everyone who asked or answered a question got a Tiger Heart bookmark. This experience was wonderful and had a very positive impact on all and especially those of us who love writing.