Year 5 Summer Taster Days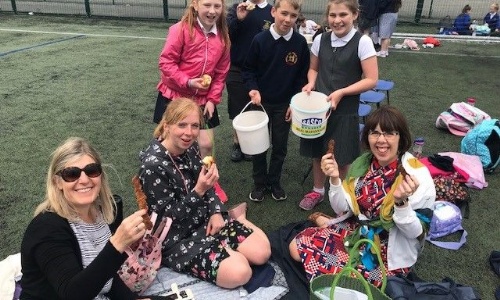 An extremely busy week here at Priory Pembroke this week. As well as many trips going on, we have had 150 year 5 students come and visit us for a 'summer' themed taster day. Students from Nettleham, Cherry, Reepham, Fiskerton & Welton St Mary's enjoyed a fun packed day of lessons based on summer, they even had a picnic lunch on the 3G and luckily the rain held off.
In art they printed bunting using summer objects as inspiration - these will be delivered once dry to create bunting back at their schools for their summer fairs. In Science students looked at how to separate sand and salt from sea water making it safe to drink if ever stranded on a desert island. In Maths they played the summer holiday game to earn money to be able to afford a summer holiday, in Drama they created postcard stills based upon a poem, in Food they baked sausage rolls, cheese straws and made Eton Mess, and in PE they enjoyed a game of Ultimate Frisbee!
Prizes were awarded to students nominated by our year 7 helpers, to those year 5's who demonstrated our Pembroke Values throughout the day. Oh, and Nottingham Forest midfielder Ryan Yates popped in too to play football with them at lunchtime on Thursday. So it really has been a fun packed two days of primary fun and frolics. Well done to everyone involved and thank you to the year 5's for coming to spend the day with us. We look forward to working with you again when you are in year 6!